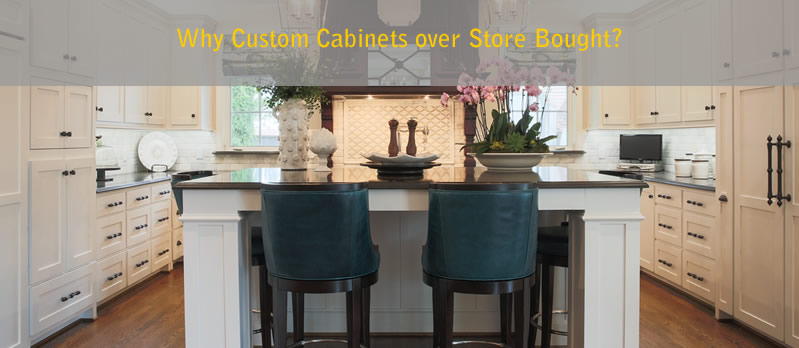 You're getting ready to remodel your kitchen, or you are about to build your home. You've got everything in order from flooring to appliances to paint colors. There's one thing missing, however. Your cabinets. Now, you have two choices for cabinets; you can buy store bought cabinets, or you can have your cabinets custom made. Which will you choose?
Unique Style
If you have a unique style in your home that you wish to mimic with your cabinets, you might struggle to find the perfect set of store bought cabinets to accomplish this goal. There are only so many styles to choose from in a chain home improvement store. While these cabinets might be faster, they aren't always going to match your style or current décor.
Custom cabinets are the answer in this case. You can design your cabinets, from the facings to the handles, and they will match your décor, your color schemes, and your entire home. Another great thing about customized cabinets is the ability to be unique. Customized cabinets are just that: custom. They will be unlike any other cabinets in any other home because they will be made custom for your specific and unique style.
Color Schemes
If you are choosing color schemes for your new kitchen, bathroom, or mud room, you might struggle to find the right cabinets from the home improvement store. Store bought cabinets often come in only a few different types of wood or paint colors. These are often the plain Jane, typical colors as well. If you are a simple person, store bought cabinets might be a great fit.
If you are much more unique, then you should consider custom cabinets. You see, cabinet makers can paint the cabinets to match any color or look that you want. They will not only be a color specific to your home only, but they will be a perfect match to your décor. You also won't be spending hours in the cabinet department at the store trying to match up colors and cabinets.
Size and Fit
Your home was made with specific measurements, and undoubtedly your cabinets need to fit these precise measurements. Store bought cabinets can be bought to match these measurements, but will they fit? What if the store gets it wrong? These measurements must be precise to ensure that your cabinets fit and look well in your home.
Customized cabinets, however, are made for your home, which means they are made to fit the room specifically. Cabinets made like this are ideal for those who are building a home or even renovating because they can be measured and custom built to fit your desired room and size. These cabinets will also look nicer in the room because they are made for the home and not the other way around.
Price and Budget
Pricing is another great thing to consider before buying any new cabinets. This is a common perception that store bought cabinets are cheaper, but there are times when customers come and tell us quotes from major retailers are much higher than the quote B&W provided for comparable cabinets.
Conclusion
Which is your choice? Do you want a unique set of cabinets? Or is your budget demanding that you go with a more cost-friendly route? Whichever choice you make, your home will be beautiful and exactly the way you want it. Each home renovation and home build are different for different people. Cabinets are much the same. The choice is yours: store bought or custom?